Bicycles and Parking
Car Parking
The Hackspace does not have any car parking, however there is plenty of free on-street parking in the surrounding area.
The area in front of our roller shutter is reserved for loading or working on a vehicle, as well as keeping access to the shutter clear. The rest of the building forecourt is let to other tenants of Meridian Studios. Please do not park in either of these places.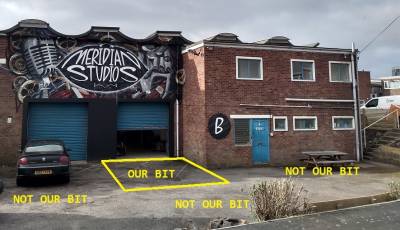 Bicycle Parking
There is a secure bicycle storage facility behind the building. Please note that this space is provided to support people who want to cycle in, not as a storage opportunity for heaps of spare bikes (or anything else). Bike stored here are at your own risk.
Please don't park your bicycle in the building. It makes the Hackspace less safe and less accessible.
Logged in members click here to see code